About ScienceDemos.org.uk
ScienceDemos.org.uk is a collection of interactive Javascript science demos written by Dominic Ford.
Many of the demos demonstrate concepts in the National Curriculum for science and maths. Others are experimental toys that may be of interest to teenagers or science undergraduates.
All of the demos on this website are copyright Dominic Ford. If you would like to reproduce or embed them, please get in touch. My contact details are below.
Dominic Ford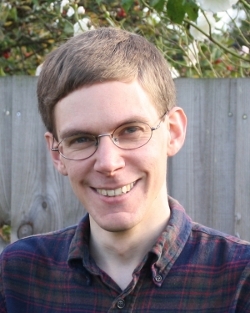 Dominic is a freelance science communicator based in Cambridge, UK. Among his other projects, he is the lead developer of In-The-Sky.org.
He also runs Cambridge Science Centre's Meteor Pi project, which offers school children the opportunity to observe and analyse meteors using CCTV cameras connected to Raspberry Pi computers, and maintains the website of the British Astronomical Association.
He previously produced the monthly Naked Astronomy podcast for the Naked Scientists, and spent time as a science advisor and producer in the newsroom of BBC Radio Cambridgeshire.
He did his PhD in the Astrophysics Group of the Cavendish Laboratory in Cambridge, studying star formation within heavily obscured dusty nebulae.
He went on to work on the Square Kilometre Array (SKA) from 2007–2012, developing numerical algorithms for high-performance parallel computing.
Contact details
You can email me at

.